Why is the Thornton Mile High Karate location so popular?
Families all over Denver Colorado (including Thornton, Westminster, Parker, South Jefferson, Lakewood) Orlando Florida, Fresno California, Centerville Ohio, Dodge City Kansas, Bossier City Louisiana, Dunkirk Maryland, Sterling Virginia, Auckland New Zealand, Tauranga New Zealand, Queensland Australia, are raving about this martial arts program for children and families.
Why?
Well, I've got to tell you, the reason is simple.
Because this is SOOO much more than a just "Martial Arts" program.
Our character development and martial arts program focuses on developing important life skills, developing rock solid self-esteem, and building true leadership skills in children and families here in Colorado for more than 35 years.
But the best part is that you don't have to take my word for it, simply check out this page, and you can request a FREE Information package that will outline all the benefits of our martial arts and character development programs for kids and adults!
Click the Button Below to take advantage of a FREE Beginners Course!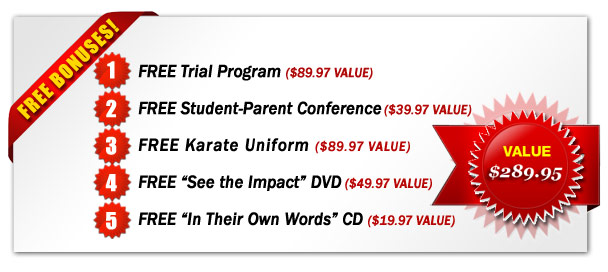 Why Karate Instruction Will Benefit Your Child
Mile High Karate's program (including the Thornton Colorado Location) works hand-in hand with a child's school work, providing improved self-discipline, self-confidence, mental alertness and goal setting skills.
Young people are taught at that through dedicated, intense work, all worthwhile
goals in life are possible.
Parents all over Thronton, Lakewood, Westminster and many other Denver suburbs, have attributed our program with improved grades as a direct result of the increase achievement, motivation, self-direction and self-confidence provided by the program.
Help Your Child Set Positive Goals 
It is important for each child to learn to set short-term, intermediate and long-term goals.
At Mile High Karate every child is the Black Belt. Black belt is a symbol of excellence in martial arts and an important tool for instructors and parents to use for developing desire, tenacity and for teaching the importance of follow-through in any activity.
Mile High Karate Will Help Your Child Get Better Grades
All young people in the martial arts program are required to bring copies of their grades from school,  complete parent intent to promote forms and complete exam qualification forms prior to testing.
Proper Use of Skills 
It is consistently stressed to all students that karate skills require them never to be abusive and are only for use defensively.
We Have Made It Easy for You to Find Out if this Program Might Benefit You or Your Child.
I'm so confident that you'll be absolutely thrilled with what you see here in Thronton, I'm enthusiastically willing to "put my money where my mouth is", and give you this "No Strings Attached" FREE Trial Offer!
FREE Trial Program (For you to "See For Yourself" if I really can
deliver these life enhancing benefits!)
FREE Student-Parent Conference ($39.97 VALUE)
FREE Karate Uniform ($89.97 VALUE)
FREE "See the Impact" DVD ($49.97 VALUE)
FREE "In Their Own Words" CD ($19.97 VALUE)
all totaled, a $289.95 Value, ABSOLUTELY FREE!
Our Class Size is strictly limited, so Call us RIGHT AWAY at –
North America: 1-800-229-2286 
NZ: (07) 577 68 68 
Australia: (07) 55 22 07 55 
or, email me here: StephenOliver@MileHighKarate.com
Or Click the Button Below: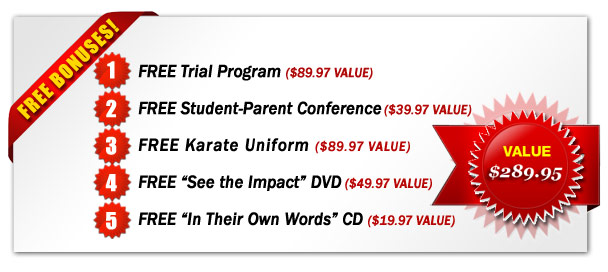 Mile High Karate chose Thornton Colorado for a Location to serve the families and children of the area.
The city of Thornton is a Home Rule Municipality in Adams and Weld counties in the U.S. state of Colorado and a suburb of the Denver-Aurora-Broomfield, CO Metropolitan Statistical Area. Thornton is 10 miles (16 km) northeast of the state's capital, Denver.
Close to Denver, an easy drive to the Rocky Mountains, access to parks, museums, professional sports teams and shopping… We like to think that the City of Thornton and it's neighbor communities, Northglenn, Commerce City, Brighton, East Lake, Broomfield and Westminster, has it all. As you'll discover, Thornton is a good place to visit and an even better place to live!